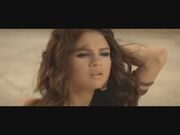 These are the lyrics to the track
A Year Without Rain
, from the
album of the same name.
The song was also released in Spanish and remixed by many different artists.
Oooooooooh
Can you feel me
When I think about you
With every breath I take
Every minute
No matter what I do
My world is an empty place
Like I've been wandering the desert,
For a thousand days ( oooh ).
Don't know if it's a mirage,
But I always see your face, baby!
I'm missing you so much
Can't help it
I'm in love
A day without you is like a year without rain.
I need you by my side,
Don't know how I'll survive
A day without you is like a year without rain ( oooh )
Ooooooooooh
The stars are burning,
I hear your voice in my mind ( in my mind )
Can't you hear me calling?
My Heart is yearnin',
Like the ocean is running dry
Catch me, I'm falling
It's like the ground is crumbling underneath my feet,
Won't you save me?
There's gonna be a monsoon
And you'll get back to me
Oooooh baby
I'm missing you so much
Can't help it
I'm in love
A day without you is like a year without rain.
I need you by my side,
Don't know how I'll survive
A day without you is like a year without rain (oooh)

Ooooooooooh
So let this drought come to an end
And make this desert flower again
I'm so glad you found me,
Stick around me
Baby, baby, baby (oooh)
It's a world of wonder with you in my life,
So hurry baby, don't waste no more time
I need you here,
I can't explain
a day without you, is like a year without rain (oooh)

I'm missing you so much
Can't help it
I'm in love
A day without you is like a year without rain.
I need you by my side,
Don't know how I'll survive
A Day Without you is like a year without rain (oooh)
Oooooooooh